Wholesale Frozen Chicken Producing, Import, Export, and Trading of frozen chicken cuts
In the production and supply of frozen chicken, SHB is specialized in chicken producing and it's global supply and trading.
We take care of the export from Brazil, Argentina and Chile in South America.
As an expert in frozen chicken production, we offer whole chicken and a wide range of chicken cuts. chicken meat and processed chicken products such as frankfurters are also available.
Chicken products can be delivered to Asia, Africa, Caribbean, Middle East, Oceania, North America and Europe. In short, worldwide shipping to any port.
All our production plants are SIF certified and approved with certified production sites under HACCP rules, often with BRC approval; including HALAL approval with muslims laws as required
Our products and services can be delivered to our importers in the following food sectors: industry, wholesale suppliers, food service distributors, and retail.
Packaging sizes can be tailored made for wholesale and retail purposes in order to meet buyers requirements.
Halal Chicken Trading Products
Many of our frozen chicken products are available with strictly controlled Halal certification. Halal chicken is one of our best-selling products in the frozen chicken trading market.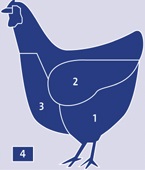 Chicken legs
Chicken wings
Chicken breasts / Chicken fillets
Chicken offals
Whole Chicken
GENERAL CHICKEN PRODUCT SPECS
Label: Sadia and Perdigao
Origin: Brazil, Argentina, Chile
Spec: Frozen
Processing type:
Freezing process: Individually Quick Frozen
Packaging: Varies from 10KG |12KG |15KG |20KG Master Carton
Certification: HACCP | Halal | ISO
Delivery: From full container load 40FCL ≈ 27Metric Tons +/- 2%